Your central heating system can build up debris within the system that can cause complete blockages or even cause certain elements of your system to work inefficiently. This is a problem that is relatively comon and so, you should not worry about it. It can cause problems to the delivery of heat to your home and limescale can build up within the exchanger. It can also cause cold spots in the home and so, your system needs a powerflush.
This is a problem that is often noticed when one radiator within the home fails to heat up while the other radiators are working correctly. This would indicate that there is a blockage in the system. There are other ways of identifying this problem. This can include the boiler making banging noises as well as your boiler turning itself on and off.
The Importance of Powerflushing your System
It is important that you have your system powerflushed when required. This will enhance the efficiency of your system and prevent the problem from becoming worse. If it is left to become worse, it can cost more to repair as well as add extra costs to your heating bills.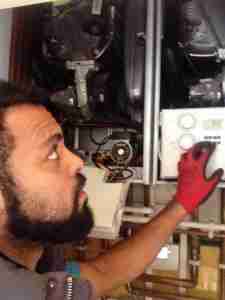 How can powerflushing work for you?
Powerflushing has a number of benefits. A system that has been flushed will improve the time it takes to heat up the radiators. This will mean that the radiators will provide more heat while your boiler will operate quietly.
Special chemicals are used during a powerflush. They are used to remove any rust or buildup that cause problems for your system. Through maintaining your system in this way, you can reduce the chances of a boiler breakdown as well as keep your heating bills down. This is particularly important during the winter months.
Are you looking for a new boiler?
Everyone has a right to hot water and a warm home. At Heat Firm we can supply and fit a new boiler in the London area. To find out more, get in touch with us today.