Installing a combi boiler is a service that Heat Firm provide in London. Yet, many customers rely on us for sound advice. Our customers ask us a lot of questions but one of the more common questions that people ask is whether their combi boiler can run out of hot water? Read on to find out more.
Combi Boiler – What is it?
A popular choice for many homeowners because they are compact and require very little space to install. Essentially it is a central heating boiler and water heater combined into one efficient system.
Heating the Water
Combi boilers areceive water from the mains and when you need hot water, the combi boiler heats the water. So, when you do need hot water, the combi boiler will sit and wait. This means that hot water is available around the clock so you will never run out hot water. That is, of course, unless your combi boiler has a problem.
The water from the cold mains moves off a heat exchanger that is extremely efficient. This is what creates the hot water that you receive. The heat exchanger moves the majority of the heat from the burnt gas to the cold water and this, in turn, is then provided when you need it. As there is no need for a hot water tank, it means that combi boilers  are efficient as they lose no heat when heating the water. Effectively, it provides hot water when you need it.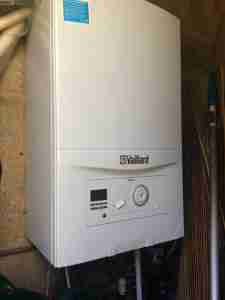 Heating the Home
In order to heat up the home, combi boilers move water around a sealed heating system. One problem with a combi boiler is that it does not like producing hot water and heating at the same time. However, it does make hot water a priority which is great when you need that hot bath. So, when the tap is on, the system delivers the hot water and when it is off, it turns its attention back to delivering heat to your home.
You Have No Hot Water
As you will know by now, a combi boiler delivers hot water when you need it and so it should not run out. However, if there is no hot water from your hot water tap, you have a problem. A problem that is likely to relate to the diverter valve.
What is a Diverter Valve?
Combi boilers severe a number of purposes. The system needs to be able to switch from delivering water to your radiators to giving you hot water for your shower. This is where the diverter valve is needed. When a tap is on, the diverter valve opens, allowing water to enter the heat exchanger. This means that water for heating your system is off temporarily. Once the hot water has been used, the valve turns back to delivering hot water to the radiators. So, if you are not receiving any hot water, it is likely that your diverter valve is stuck, faulty or worn.
So, if you find yourself in a position where you have no hot water, you need professional assistance from Heat Firm.
If you are looking for an experienced plumber and heating expert in London, give Heat Firm a call. We can have your combi boiler back up and running in no time at all.