Purchasing a home is the largest investment most people will ever make. However, 66% of people fail to carry out gas safety checks before moving in.
This is an alarming figure because failing to carry out the gas safety checks can lead to severe safety concerns. In fact, only 10% of property buyers consider it crucial to check the safety of a property.  Many believed the checks formed part of the mortgage lenders survey.
In the UK, 1.2 million properties sold each year. This means that there are around 800,000 homes at risk. They are at risk of gas leaks, carbon monoxide leaks or expensive repairs to their heating system.
Alarming Figures
A study that involved 1,000 people had some interesting results. Many people failed to check their boiler with 40% failing to do so. Those who did carry out a gas safety check, many were unaware of what a correct checks consists of. This lead to checks that were inadequate. This includes less than half of homeowners who failed to find out when the boiler was last serviced. Frighteningly, one in three checked the boiler themselves with no professional help.
Around 30% of people checked their central heating system themselves without the assistance of a professional. Many people did not know that they had the ability to request all service records of gas appliances.
Across the UK, Scottish buyers showed the least concern when it came to safety. In contrast to this, Wales was the safest region.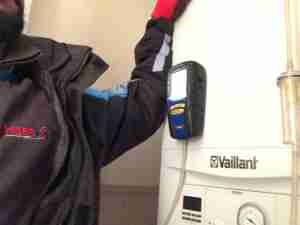 However,  those who were failing to have the right checks were at risk of having gas appliances that could be dangerous.
Shockingly, 40% of homebuyers who experienced a problem after moving in, took over a week to have the problem solved. The main reason for this was because they thought it was not urgent but many said they could not afford the repairs and were saving for the work to be done. Alarmingly, almost a fifth were unable to arrange an appointment with a professional to rectify the problem.
Purchasing a new home is exciting for all but it is important that home buyers see all report relating to gas appliances. Carbon monoxide kills silently and this means it is important for home buyers to check appliances.
At Heat Firm, we pride ourselves on our ability to deliver an impeccable service. We are Gas Safe Registered which enables us to service your appliances professionally and safely, so get in touch with us today.